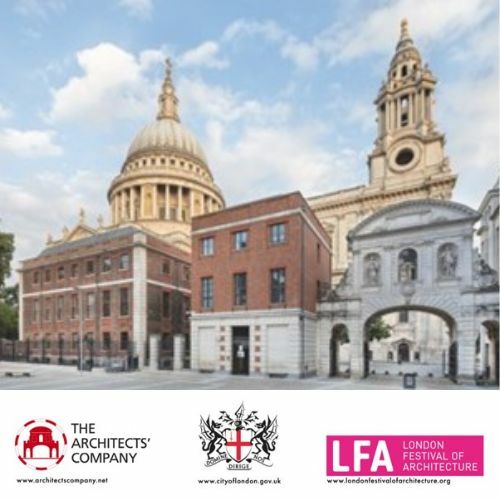 UPDATE: The Eco Home Pavilion (formerly The Paternoster Pavilion)
What is it?
A temporary structure exploring innovative ways to address the impact of buildings on the environment.
What do we imagine when we think of an eco-house? An insulated, solar-powered new-build? An old building recycled for a new use? The Worshipful Company of Chartered Architects (WCCA) launched a competition to build a temporary pavilion in the heart of the City of London to inspire people to consider the future of sustainable living.
The catalyst for the initiative has been the City of London's Climate Action Strategy Group, along with the WCCA's ongoing sustainability theme. The City has a history of enlightened patronage when it comes to environmental leadership and design – the square mile features some of the UK's most advanced buildings and is home to world leaders in green finance. The WCCA aims to unite the two, while showcasing it's public activities and role in promoting high-quality architecture.
The Design Competition
While the brief was highly flexible, the starting point is the house – architects were asked to consider living, dining, kitchen, bedroom and circulation spaces. The challenge for applicants was to combine new thinking in architecture with the latest technologies to create a memorable, engaging structure. Possible challenges to address included local sourcing, efficient materials, low operational and embodied carbon, recyclability, reducing plastic waste, social health and well-being, or a combination of issues.
Latest Update on Eco Home
Following the Open Call launched on the 13th October 2022, the submissions for Round 1 of the Eco Home Pavilion competition closed on 30th November. The Open Call was shared widely on NLA/LFA channels and was picked up by applicants via the RIBA and Architects' Journals, as well as LFA newsletters and social media. 80 applications were received from a wide range of designers and collaborations, from recent graduates to established practices.

A shortlist of six teams was chosen. The shortlisted design teams had a month and an honorarium to work up a fully designed and costed proposal and present this for final judging on 31st January 2023.